There are endless possibilities with container conversions. From offices to living spaces, easily transportable to your next project and reusable. Ideal for remote location projects, especially as it is not practical to spend time and money on constructing permanent structures.
Attachments & Extras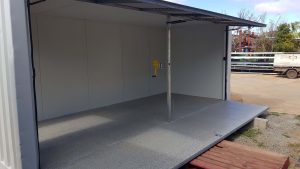 We make several integrated attachments for the containers builds. Decks that can slide out for easy access, roof locks that can connect 2 or more containers, so you don't need any construction on site, they literally lift off lock in and you're done. Eliminates the need to have any dangerous working equipment like hot work permits. You wouldn't even need any tools to hook the roofs on. They can all be transported on top of the container, so they are undersized, and you don't need any pilot vehicle or permits for truck drivers. We can add tropical roofs to the top of the containers for extra shade in harsh conditions, keeping the building a lot cooler during summer. We also make dome shelters between containers for larger sites. All our guys have AWP tickets, working at heights. We also accommodate cyclone ratings, tie downs, concrete cleanses for the buildings to sit on. A lot of sites in the northern region require this and it is important for us to make sure we follow the rules and regulations of the area. Our systems include electric remote-controlled awnings that sit above the containers and assemble out over the doors, quite handy when you are not at the site and use it when you need it.
Site Camps
We make full camp setups which can integrate several containers that will have offices, bedrooms, bathrooms, kitchens, laundry, storerooms, even cafes and gyms, all customised to your requirements. We can integrate roofs between the buildings, and have generator setups, giving you a virtual turnkey setup so that you can walk into the site and open the doors to air cons running and everything is ready to go. You don't have to worry about anything, maintenance can come back to us depending on the hire situation. We can then service any onsite generators, water tanks and other equipment that we have supplied. Right down to beds and linen, fully equipped kitchens from pots and pans to all appliances, anything that is required for the site living.