Our ablution and shower blocks usually fit quite well in a 20ft container. We can integrate storage tanks underneath the building so we lift the floor up and put a 3500lt storage tank for your wastewater which can then be pumped on usually a monthly basis from a separate contractor.
These tanks save the client by integrating them up for a sewage system on the site, all they need to do is hook up the water and power and they are ready to go.
We can fit 3 showers quite comfortably, 2 toilets and urinals and a sink in a 20ft container, which is the most common layout, but we can also custom design as per your needs.
We can also do direct sewer connection units, so all the plumbing come straight out the back and either an onsite plumber or ourselves can hook them up to the main sewer or septic tanks.
We can do all your standard layouts with male, female, ambulant, disabled, compliant or depending on the location and site that the unit is going. We can have gas or electric storage hot water systems powering water in one simple connection and ready to go once the unit is onsite.
Also, our shower blocks or ablution blocks can be used on trailer format which means they are hired out for venues used on temporary sites and work sites.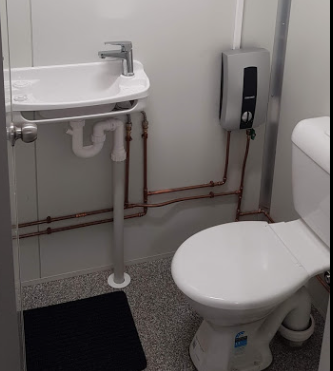 20ft Kitchen, Bathroom & Laundry​